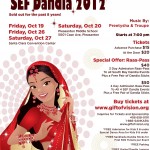 Much like previous years, this year again you can do your share of Dandiya in Pleasanton on Saturday, OCT 20 2012, starting at 7:00PM.
Location – Pleasanton Middle School, 5001 Case Ave, Pleasanton, CA 94566.
Admission is $15.00. Free for kids under 5, and a separate area for kids. Free parking.
For tickets, www.giftofvision.org – this event usually sells out; so it serves better to buy in advance.