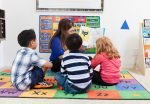 Little Scholars Preschool warmly invites families with kids ages 2 to 5 years to experience a petting zoo on Sunday, July 16, 2:30-4:00 pm! We are a loving, nurturing, and interactive in-home preschool located in Pleasanton, CA. Come enjoy the animals and learn more about our program and enrollment process. This event is free and is for both adults and children! RSVP here.
Our mission is to inspire children to engage in their passions, develop a love of learning, and maximize their potential. We believe in the whole child, focusing not only on academic excellence, but also on teaching life's most important character lessons. Becoming a caring, compassionate individual is as important as becoming a strong, independent leader. Director Linda Modlin's career includes experience as a teacher and director of both a highly academic private preschool as well as play-based programs, and Little Scholars strikes the perfect balance of both–a fun, loving, and nurturing atmosphere without the huge price tag of a private school.
Learn more at wonderschool.com/littlescholars & check out our reviews on Yelp.