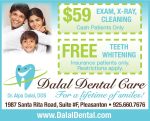 Mother's Day is a special day. It's a day to celebrate your mom and other special women in your life. If you're trying to think of a special gift to give your mom, how about skipping the box of chocolates this year and trying something new to celebrate your mom with these gift ideas: Give mom the gift of good health, a confident and dazzling smile.
Mother's Day Special Promotion at Dalal Dental Care – $59 – Exam, X-Ray, Cleaning. Book now at http://dalaldental.com/#mt-popup-modal
* Teeth Cleaning – If you want that confident and dazzling smile, it would be best to go beyond the usual flossing, brushing, and mouth rinsing. Mother's Day is that perfect time to give your teeth a much needed thorough cleaning at Dalal Dental Care. Professional teeth cleaning remove food particles and calculus deposits that normal brushing and flossing cannot remove.
* Tooth Whitening – Teeth become stained for many reasons – drinking coffee, tea or wine; smoking; and even aging can discolor teeth. Tooth whitening is a process that makes discolored teeth whiter. The bleach used for in-office (chair side) whitening is stronger than the bleach found in at-home whitening kits.