Violinist Kala Ramnath, along with the Bay area Saxophonist George Brooks, are performing under their band Global Conversation -some raga influenced jazz and some jazz inflected raga! The show is presented by Sankara Nethralaya Om Trust at Amador Theater, 1155 Santa Rita Rd, Pleasanton, 925-339-8090 on Sunday, Sep 30 2012 7:00PM Tickets are $25, $35, $50.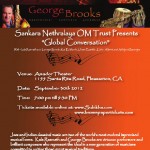 Kala Ramnath belongs to a violin dynasty from India- Mewati gharana – a unique musical lineage of seven generations which straddles both the classical systems of the subcontinent. Her violin playing is characterized by an immaculate bowing and fingering technique, command over laya, richness and clarity in sur. She has revolutionized the technique of playing the violin by taking this instrument so close to vocal music that today her violin is called The Singing Violin. Kala also has been involved in the background score of the Hollywood film Blood Diamond working with composers like James Newton Howard and George Acogny.
Currently she has a series of concerts ongoing with North-South duet compositions with Lalgudi Vijayalakshmi.
George Brooks is a prolific and diverse saxophonist and composer, acclaimed for successfully bridging the worlds of jazz and Indian classical music. He is the founder of several important Indian fusion groups including Summit with Fareed Haque, Kai Eckhardt, Zakir Hussain and Steve Smith, Bombay Jazz with Larry Coryell and Ronu Majumdar and the Kirwani Quartet with Dutch harpist Gwyneth Wentink and Indian flute maestro Hariprasad Chaurasia. Brooks has taught on the faculties of Mills College in Oakland, The Jazz School in Berkeley and UC Santa Cruz. He lives in northern California.