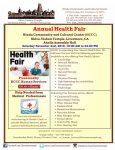 Admission: FREE
HCCC is organizing Free Annual Health Fair. We will have Doctors with the following specialties available on site offering Free Health Advice. ➢ Cardiology ➢ Internal Medicine ➢ Nutritionist ➢ Ayurveda ➢ Natural Therapy ➢ Dentist ➢ Physical Therapy ➢ Ophthalmology (on availability) ➢ Homeopathy ➢ Nephrology
Free Cholesterol Testing ,Blood Sugar Testing , Heart Disease Risk, Limited Flu Shots ,Free Hearing Test
For more details see the flyer.