During this Covid-19, Keller Williams is adapting and thriving. Keller Williams Realty has moved to the virtual world where everything can be done online.
Steps are below:
• Contact Sobia's Team at sobiakha…@k…com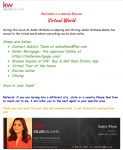 • Keller Mortgage- Pre-approval Online
• Browse houses at KW
• Virtual Tour of the house
• Escrow online
• Closing
Keys in your hand!
Referral: if you are moving into a different city, state or a country Please feel free to reach out to me, I will refer you to the best agent in your specific area.
Thank you very much for your time and consideration! I look forward to hearing from you!