Would you like to SPARK an interest in your child about "How computer science and technology can be used to solve real life problems?"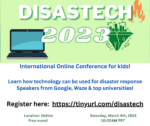 If so, please register your child to attend 2023 DisasTECH conference – the largest FREE, online technology + disaster relief conference in which they will learn from top technology leaders at Google, Waze, and more on how technology is used during disasters like fires and earthquakes.
Register today at https://tinyurl.com/disastech
The conference will take place online via Zoom from 10am-1pm PST on March 4th, 2023. It is free to attend and open to students of all ages from all parts of the world!