Join our End-of-the-Year Celebration!
We invite you to join our GRAND Christmas-New Year  dinner party, with family & friends, on Saturday Dec 16th, 2023, evening!
Have fun and celebrate your 2023 Christmas to the accompaniment of carols, dance, songs, music, Santa, and more !!
Tickets are Live now! Please do grab them before they are gone!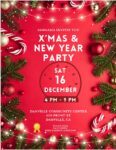 Date: Saturday, Dec 16th, 4pm -9pm
Venue: Danville Community Center, 420 Front St, Danville