Bay area Kerala group, SanGaMa, is planning to celebrate the upcoming ONAM  festival on Sunday, September 18th at  Pleasanton
The details are here: https://www.sangama.us/
So, if you have moved recently to the neighborhood and/or would like to meet/greet local families or would like to participate/register for stage performances, please feel free to join.
We are planning a grand Onam Sadya(Grand Vegetarian feast) with traditional festivities like Pookkalam, Maveli and cultural programs like Thiruvathira dance, kids' dance songs/music, et al.
In the true spirit of Onam, we encourage and invite anyone interested to join, to be part of this rich and ancient festival!
*Sponsors:* If you are a local business interested in sponsoring the
event, please send a note to [email protected]
Best Regards,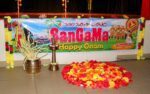 Vijay
[email protected]