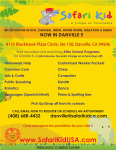 For information on what Safari Kid Danville offers, please visit http://safarikidusa.com/daycare-centers/…Winter break is already here so it's time for our Winter Camp! Winter break is one of the longest breaks of the school year so kids can end up having a lot of downtime. At Safari Kids, we want to make sure your kids have fun and continue to learn and grown in the process. During winter break this year, we're offering a fun and educational camp at our Danville location.
The camp will offer a variety of fun activities including:
Arts & Crafts
Educational games
Yoga
Young chef
Science experiments
Theater
Outdoor activities (if weather permits)
And much, much more.
Current Promotions:
Now through Dec 31st (Registration fee waived)…
1st Promotion – Enroll and get 10% discount on Tuition fees. (Month to Month, No Contract)
2nd Promotion – Enroll two kids and get one free month of tuition fees. (Month to Month, No Contract)
3rd Promotion – Enroll for two months and get 3rd month free. (Only two months contract, then month to month)
Pick up / Drop Services are available in the above promotion
Please call 408-688-4432 or 510-710-6009 to schedule a tour.