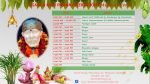 Sairam All,
SriSaiTemple Invites all devotees to participate in Ugadi & Gudi-Padwa celebrations on March 17th 2018 and get BABA's blessings.
Please forward to your friends and family.
In Baba Seva,
— Sri Sai Temple.
Now, do you know which are the most popular Indian food dishes in the local Tri-Valley Indian Restaurants?