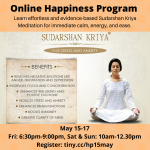 Online Happiness Program by Art of Living.
How To Drop Your Stress Without Leaving Home 👍
While you're in lockdown, why not make the best of the experience? 😌
Now's your chance to go inward with evidence-based, powerful breathing exercises & meditation to:
🚀 Boost your energy levels
💤 Sleep better
😊 Minimize stress
💖 Feel joy and calm—every day.
Now's the time! Learn more 👉 tiny.cc/hp15may
50% discount for limited time.