Welcome to Music N Beyond, where kid's grow up making music.
Music & Beyond is the East Bay's premier music school serving Dublin, Pleasanton, San Ramon, Livermore and beyond.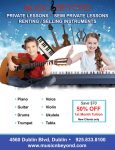 Music & Beyond offers private lessons and group instruction in a variety of instruments, such as piano, guitar, drums, voice, violin, trumpet, voice, ukulele and many more! Also, we prepared kids for certificate of Merit certification.
At Music & Beyond we strive to provide a friendly learning environment where children and adults alike can develop their musical talent and gain a life-lasting appreciation for the wide musical world. Catering to any style, our teachers are competent in instructing everything from classical to contemporary music.
Check us out at musicnbeyond.com
Music N Beyond
4560 Dublin Blvd, Dublin, CA 94568
925.833.8100
Do you know which are the most popular Indian food dishes in local Tri-Valley Indian Restaurants?