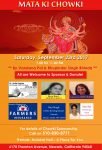 Mata Ki Chowki on the occasion of Navratri festival. This is a Free Event.
Artists: Bhupinder Singh Bhinda & Vandana Pal
We welcome donations and sponsorships for Mata Ki Chowki.
For details, please email us on prach…@m…com or call on 510-830-8771.
Register yourself: https://www.eventbrite.com/e/mata-ki-chowki-tickets-37415427551
Now, do you know which are the most popular Indian food dishes in the local Tri-Valley Indian Restaurants?