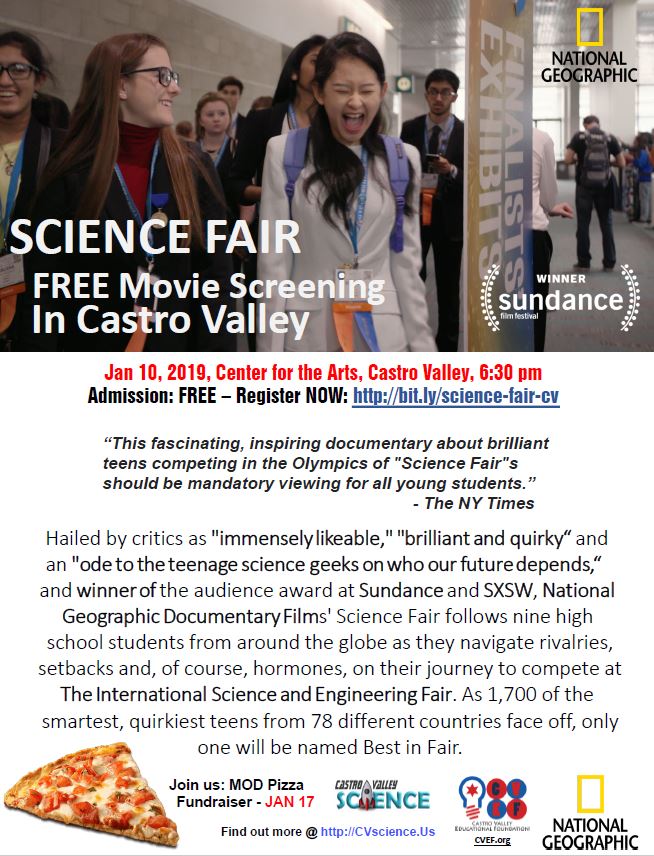 Meet the young geeks upon whom your future depends: Kashfia is one of the only Muslim students at an enormous school in South Dakota, and takes an inventive approach to studying the human brain; Myllena and Gabriel are two teens from an impoverished region of Brazil, whose research can help stop the spread of the Zika virus; and Robbie is a passionate teen from West Virginia who is obsessed with number theory, Kanye West, and artificial intelligence. These are some of the nine students featured in the National Geographic film "Science Fair",  which won audience awards at SXSW and the Sundance Film Festival.
Castro Valley Science, in conjunction with the Castro Valley Educational Foundation, invites the East Bay and community to a very special screening of this quirky and inspiring film. It will be shown at the Castro Valley Center for the Arts at 6:30pm on Thursday, January 10.  Attendance is free but registration is required at http://bit.ly/science-fair-cv.
Do you know which are the most popular Indian food dishes in local Tri-Valley Indian Restaurants?