SEF Dandiya will be organized on Oct 15, 2011 Alameda County Fairgrounds, Pleasanton featuring Dhol Baaje Entertainment, like last year. Tickets are $15 – and recommended to be purchased in advance as they WILL be sold out on the day (at actually any dandiya event). This is your only other chance to attend garbha this year in the Tri Valley, other than one Organized by Windemere Friends
Free garba/dandia lessons available from 6:00-7:00pm on the event day for those who have purchased the tickets.
Contact [email protected]
 Free Parking
Complimentary checkin of dandia sticks while you enjoy Garba
Free entrance for Kids age 5 and below
Special Dancing Area for Kids for Extra Safety
Other SEF Events at Sept 24, Oct 1 and 4 in Santa Clara.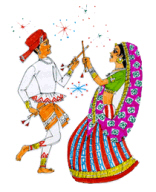 ————————————–
OTHER BAY AREA DANDIYA EVENTS:
————————————–
Induz Dandiya 2011 featuring Dr. Sharvari Dixit
Saturday, Sep 24 7:30p to 11:30p
at Centerville Junior High School Fremont, Fremont, CA
Induz Dandiya 2011 featuring bay area's most popular Garba/Dandiya DJ Dr. Sharvari Dixit and troupe. Make it an extra special Navratri celebrations for you and your family at the spacious and convenient venue in East Bay.
Tickets www.sulekha.com/induz
Child care facility, ample parking, food, dandiya sticks etc will be available.
————————————–
lap once, clap twice, clap three times…and you're almost there!
Garba is THAT easy! This TWO HOUR workshop will teach you the basic hand and feet coordination to get YOU on the dance floor this Navratri season!
Get a head start and join us in the Garba & Raas workshop on:
– Sunday, September 18th from 1PM to 3PM in San Jose, OR
– Sunday, September 25th from 1PM to 3PM in Milpitas
Register: [email protected]
————————————-
Gujarati Cultural Association Upcoming Events – Navratri Garba/Dandia
Date: September 25 & 30
October 1,7 & 8th
————————————-
Small Steps Foundation Diwali Dandia Nite 2011 – Oct 8th
Saturday, Oct 8 7:30p
at Centerville Junior High School Fremont, Fremont, CA
SSF Dandia Nite 2011 in Fremont!
Most kids friendly dandia – Local Center will manage the kids corner with beautiful, craft, fun and brain bending activities, when they are tired from dancing. Biggest in Fremont with electrifying Bollywood music by Dimple Patel.Buy your tickets at sulekha.com or from the other store ticket outlets.