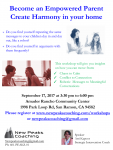 I have designed this workshop keeping in mind today's parent and child dynamic … and focuses on how you can move away from robotic messages and…
Connect with your child
Grow your relationship
And bring back the joy of parenting!
To dive into these questions and get some insights, ​I invite you to register here for my upcoming workshop:
"Become an Empowered Parent – Create Harmony in your Home"
Sunday Sept 17th 3:30-6:00pm . Please Register for the Workshop.
The workshop will show you the path on how you can move from:
Chaos to Calm
Conflict to Connection and
Robotic messages to Meaningful Conversations
Hope you & your friends register for the workshop (https://www.newpeakscoaching.com/workshops ). It will really be worth it.
Best,
Arti
Now, do you know which are the most popular Indian food dishes in the local Tri-Valley Indian Restaurants?