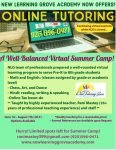 A well-balanced Online Summer camp 2020 @ NLG
Online classes Offered for all ages
After 9 successful years, the New Learning Grove Academy is proudly open for enrollment in our 2020 Online Summer Camp. We have a wide range of activities including academics to ensure that your child will be fully prepared for the next grade! If you are looking for a well-rounded program, please call Rani @ 925-596-0471.
1. English/ History/ Science
2. Math
3. Art
4. Chess
5.Dance
6.Speech & Debate
7. Hindi
8. Spanish
9. STEM Robotics
10. TKD
11. College Consulting/Prep
We are proud to share continued success on CoGat and AP Math! Several references available from your neighbors!
Rani Mastey is a highly experienced teacher from Challenger, a well-accredited private school in the Bay Area. She provides one-on-one attention to ensure the academic progress of each of her students. For this reason, seats are limited. Please contact us at (925) 596-0471for registration information and exact schedule.
We have limited spots left for each grade!