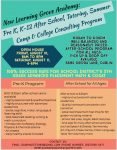 New Learning Grove Academy (NLG) is highly academically structured after school program with a mission to have each child reach their fullest potential academically and foster independent sharp thinkers.
–  N LG After school program is run and taught by a highly experienced Teacher/Founder from a well reputed private school , Challenger, in the Bay Area.
-NLG is proud to launch a highly academic, phonics based program for Pre-K &  K, alongside its existing after school and small group tutoring programs for all grades!
• Small group tutoring weekly sessions for English, which covers all four areas in English; grammar, comprehension, literature, & spelling/ vocabulary.
– special expertise in creative writing and sentence diagramming.
• Math with very experienced teachers for all grades.
-including; AP math for 5th, algebra, geometry, calculus, & SAT math
* school/College counseling is available from an experienced founder, Rani Mastey,  with personal experience from a her own children who went to Stanford, UC Berkeley and Harvard.
For more information contact: Rani Mastey
925-596-0471 Email: ranimastey39…@g…com
Please Visit: http://www.newlearninggroveacademy.com
Do you know which are the most popular Indian food dishes in local Tri-Valley Indian Restaurants?