Mark June 23 and 24 to be at the Alameda County Fair in Pleasanton – the two days celebrate the Spice of India Festival with a lot of food and culture.

There is live cooking demo and food, cultural booths, Best of the Bay Samosa Contest, and what not. See details below, and in the flyer.
The Alameda County Fair is celebrating turning 100. This year's Centennial celebration includes the return of the downtown Pleasanton Parade, a brand new concert format, and a variety of distinctive memorabilia chronicling its 100 year history.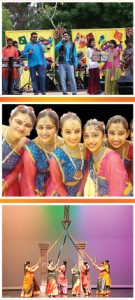 SATURDAY, JUNE 23
Noon – 2nd Best of Bay Samosa
Rolling & Cooking Contest
1:15 pm Yoga & Meditation
1:30 pm Travel to India, No Passport Needed
3:00 pm Bollywood Fitness
3:30 pm Contemporary Dance & Music
4:30 pm Live Bollywood Music & Karaoke
5:30 pm Recognition & Vote of Thanks
SUNDAY, JUNE 24
Noon – Cooking Demo by
Famous Bay Area Chefs
1:15 pm Yoga & Meditation
1:30 pm Travel to India, No Passport Needed
3:00 pm Contemporary Dance & Music
4:30 pm Live Bollywood Music & Karaoke
5:30 pm Recognition & Vote of Thanks
Bollywood – Henna – Great Indian Live Cooking demo & food – Cultural booths – Traditional dance across various Indian states – Live Music * Yoga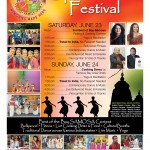 Best Of the Bay SAMOSA Contest
SATURDAY, JUNE 23RD • 12 p.m.
More information: [email protected] • Krishna Kumar, 510-213-1223, [email protected]