Hello all, My father, Vijay Somanchi, a renowned artist in India is visiting me for 3 months. He is planning to offer painting classes while he is here, this summer.
Painting classes for adults and kids above the age of 12 years will be offered.
Please RSVP by 06/15 or contact us on 510-456-5764 to register
The curriculum is as follows:
 Adults ($10/hr):  Oil painting and Water colors 10AM-12PM, Mon, Wed and Fri
 Children (ages 12-18) ($8/hr):  Drawing and Water colors 3-5PM, Mon-Fri
About the artist: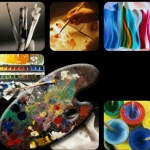 He did many art camps and presented at art seminars motivating the young talent in India. He was invited to be a Guest lecturer in Nagarjuna University, Guntur, in Art and Architecture 2009-10 and a guest speaker at NIFT, Hyderabad 2011-12 after he retired from Banking.
Please refer to the his website to know more about the artist and his paintings. Regards, -Anoop.
www.vijaysart.com