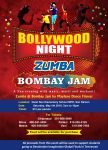 Zumba+Bombay Jam+Bollywood Night @ San Ramon on 5/5 – Saturday.
The tickets are $15 each and kids 10 years and younger will be admitted free.
Food will be available for sale at the venue.Buy Tickets at : https://prasadgarry.wixsite.com/bollywoodnight
Once you make the payment, please send me email to prasad.garr…@g…com
Do you know which are the most popular Indian food dishes in local Tri-Valley Indian Restaurants?