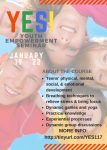 Give your teens the Gift of Yes! Program – dynamic processes, breathing techniques and yoga –
which will result in lasting legacy of
– Resilience
– Stress relief
– Values and responsibility
– Good health and happiness
Watch what teens who have taken the program have to say
http://www.youtube.com/watch? v=6QqAHhd9LZM&sns=em
Youth Empowerment Seminar Jan 19th – 22nd.
Weekdays 6:30-9:30 pm
Weekend 10:30 am -2:30 pm
Link to register
http://www.artofliving.org/us- en/program/17590
More info: http://tinyurl.com/YES117
Questions, call Sudhir Gondhalekar 510-701-2217, Anu Gupta 203-249-6852
Do you know which are the most popular Indian food dishes in local Tri-Valley Indian Restaurants?