Last week Burgerim opened At Rose Pavilion on Rosewood Dr, Pleasanton – just off the Santa Rita exit.
We were invited to try it out. The Burgerim concept is mainly centered around the use of 100% Halal meat (on their site, not all are like that, but the Pleasanton one is). We found the place shiny and new, as well as the fare!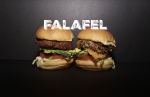 So what we understood, the "gourmet" burgers are relatively small in size, ideally, come in a pack, and there is a variety of buns, sauces, and toppings. Easy to customize.
We tried the veggie and the falafel (chickpeas and fava beans) patties – and they were great. Best, they were not soy or rice! The side of circular cut fries with sauteed Jalapeno and cheese was out of the world. The Oreo milkshake was as good as it gets. We checked and were told that veggies are fried separately from meat. The cost of it all was particularly reasonable as well.
A very welcome addition to this area for all those who value Halal and I'd say even Vegetarian, but non-Indian fast food.