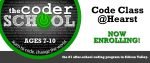 theCoderSchool is proud to announce that we will be hosting an introductory class at Hearst Elementary.
The program is aimed at kids 7-10. It will be offered Wednesdays at the school from 3pm-4pm.
Sign up on our website!
Now, do you know which are the most popular Indian food dishes in the local Tri-Valley Indian Restaurants?