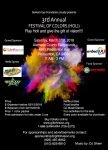 SEF is happy to bring another colorful Holi in the East Bay at the Alameda County Fairgrounds on Saturday, March 31st, 2018. The festival is kid friendly, has a super DJ with great music, will have food for purchase and lots of colors, including one free packet with admission. Please bring friends and family to support the event.
Saturday, March 31st, 11AM – 3PM
Alameda County Fairgrounds, Pleasanton, CA
Tickets : $15
Link to Tickets: http://www. giftofvision.org/events
SEF is a 501(c) 3 non-profit organization, with a mission to eradicate curable blindness in India. We currently have nine fully functional super-specialty eye hospitals providing free eye care to the poor. SEF has performed over 1.5 million free eye surgeries and today, is the largest provider of totally free eye surgeries in India. Please visit us at https://www.giftofvision.org/events/sef-holi-2018pleasanton for more information.