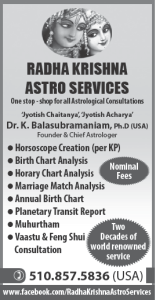 Astrology is a divine science in Sanskrit this science is named "Jyotish". Jyoti means light and to make things clearer. Let me explain this through an analogy: the human body is a ship sailing in the deep, dark ocean of material life. Without proper lighting from the lighthouse the ship cannot sail safely to the port. In contrast, if a ship receives proper lighting it makes to the shore without going through the meandering path.
The goal of Radha Krishna Astro Services is to enhance the positive results and the minimize/eliminate the negative results by offering simple, and easy-to-follow remedies. For all astrological consultations please feel free to contact "Jyotish Chaitanya" "Jyotish Acharya" Dr. K. Balasubramaniam, PhD (USA). A short list of astrological services offered by Radha Krishna Astro Services has been presented here:
Dr. Balasubramaniam comes to you with over 24 years of personal experience and over 60 years of family experience in Vedic Astrology, and Krishnamurti Paddhati. Dr. Balasubramaniam has resolved several difficult issues in his ever-growing client base in the topics pertaining to marriage, child birth, children's education, financial issues, professional life, building construction issues through Feng Shui & Vaastu, etc. The clientele of Radha Krishna Astro Services include tech professionals, businessmen, land owners, real-estate developers & builders, university professors, families, etc from all regions of the USA, Canada, UK, Australia, Singapore, Malaysia, Hong Kong, and India.