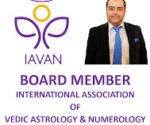 Santa Clara, CA based celebrity astrologer Saket Bhatia is ranked as the Best Vedic Astrologer in USA 'who predicted the winner of US elections of Donald Trump and Joseph Beiden based on their horoscopes'as well as the next Prime Minister of India Yogi Adityanath. Saket Bhatia is among top 10 famous Indian Astrologers who has read the horoscopes of several Bollywood celebrities, singers and TV actors. He is a Board Member at International Association of Vedic Astrology & Numerology (IAVAN).
He has given interviews & done live shows for numerous radio stations & TV channels in India & overseas. He is the only astrologer who has held a tak show during drive time peak hour in Silicon Valley.
Saket Bhatia's certifications include: Jyotish Visharada, IAVAN; Jyotish Kovid, IAVAN; Jyotish Kovid, ICAS; Jyotish Medha Pragya, ICAS and Numerology.
You can reach him at https://saketbhatia.com, via email at [email protected] or call (408) 639-5300.