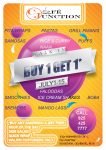 Hi Everyone, Here is something special for you for next 2 weeks! See the Flyer attached.
We are going to add the following very soon —
Paani Poori, Chaat Papadi, Sev Poori, Kulfi, Faloodas, Ice Cream Specialities, Detox Juices & may be Spicy Chakhna (Pick your booze from next door bar saloon  lol 🙂 And TIFFIN BOXES  …. Stay Tuned.
And We are Hiring, get in touch.