Last week, Pleasanton, Dublin and Danville have been redistricted in the Congressional electoral map. And this suddenly creates a possibility that we may see the third ever Indian-American getting elected to the U.S House after Dalip Singh Saund (1956)and Bobby Jindal (2004).
So what's the scoop, and who are we talking about here?
A young Indian-American is now challenging established norms in an audacious bid to win a seat in the U.S House of Representatives. Ranjit Gill, a law student at University of California in Berkeley is just 24 (he'd have crossed the qualifying age by election day), but he's drummed up a war chest of nearly $ 500,000, the third-highest in the country for a Republican challenger, forcing the party leadership and political pundits to take notice. If Gill can pull it off, he will be the youngest U.S Congressman since 1797.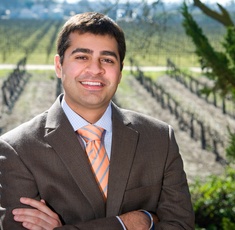 Gill, known locally by his nickname Ricky, is aiming for the Ninth Congressional District in California, which is currently held by Democrat Jerry McNerney, 60, an engineer from Pleasanton now serving his third term. Normally, few would have given the Indian-American upstart any chance, considering the monotonous regularity with which incumbents, riding on the odds stacked against challengers in terms of raising money and nursing constituency, are re-elected.
But a growing anti-incumbency mood coupled with lucky breaks in constituency redistricting offers Gill a sniffing chance. An electoral map approved this week by California's bipartisan Citizens Redistricting Commission will include more of San Joaquin County, where Hispanics outnumber whites, while cities like Pleasanton and Dublin (McNerney strongholds) have been moved to other districts. Local pundits say the changes have dropped areas that Gill knows nothing about (read Dublin, Pleasanton) and constituents who know nothing about him. McNerney has already said he would move from Pleasanton to San Joaquin County.
A first generation Indian-American whose parents are both physicians, Gill is pumped up in an area which has a large Sikh community involved in farming and agriculture and a big Hispanic labor force. His forbears hail from Ropar in Punjab but he was born in a town called Lodi, California (not related to the dynasty or the town from the sub-continent; it's a town most famous for Zinfandel wine) and speaks both Punjabi and Spanish. Gill has staked out positions on major issues for the agricultural industry, including his support for diverting water to the San Joaquin Valley and the creation of a guest worker program.
Much of his campaign contributions are believed to come from alumni supporters at Princeton and UC Berkeley, and Indian-Americans in the medical, agricultural, and academic fraternity. California's large and pedigreed Sikh community and the nearly 15 per cent Asian-American population in the district has already lined up to support him. His parents, both obstetricians who moved to the area in the 1970s, are well known in the medical community and are plugged into a sprawling fund-raising network for local political causes, which Gill has tapped into from his campaign headquarters at the Flag City RV Resort near Lodi.
Gill will turn 25 — the minimum age required to be a member of the House — a month before the June 2012 primary. He was 17 when Gov. Arnold Schwarzenegger chose him to serve as the student member of the State Board of Education. He attended Princeton University, graduating in 2009 with a bachelor's degree in public policy.
So Dublin, Pleasanton, Danville residents don't really get to vote for Ranjit Gill. But the fact that voters in these cities are not part of his contituency now simply increase his chances of winning.