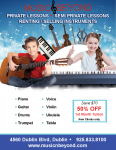 Welcome to Music N Beyond, where kid's grow up making music!
Music & Beyond is the East Bay's premier music school serving Dublin, Pleasanton, Livermore and beyond! Our experience is that music has a transformative power, and can enrich your life immensely.  Studies have shown that musical prowess can increase aptitude for math and other subjects. The ability to play an instrument builds confidence and provides an opportunity to shine in social situations for a lifetime to come!  And, above all else, learning to play an instrument is FUN!
We offer private lessons and group instruction in a variety of instruments, such as piano, guitar, drums, voice, violin, trumpet, voice, ukulele and many more! Also, we prepare kids for certificate of Merit certification.
Music N Beyond
4560 Dublin Blvd, Dublin
musicnbeyonddubli…@g…com
925.833.8100 Check us out at musicnbeyond.com
Do you know which are the most popular Indian food dishes in local Tri-Valley Indian Restaurants?