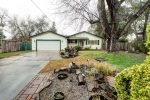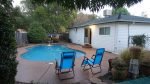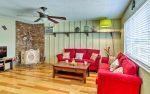 New Vacation Rental available in Shasta County…Redding, CA. The "Hidden Charm" of Redding, Shasta county, CA is available for vacation rental…
Your gateway to outdoor adventure awaits at this 3-bedroom 2-bathroom Redding vacation rental home! Boasting 1,450 square feet of living space, this home features a large living room, fully equipped kitchen, accommodations for 10, a ping-pong table, and an outdoor private pool. From clear creeks and caverns, to towering dams and volcanic parks, you'll be minutes from it all at this northern California haven!
Book your stay with our premier partners:
http://homeaway.com/p4754783, http://vrbo.com/4754783ha, https://evolvevacationrental.com/382169
Close to major attractions:
Turtle bay exploratorium – 13 Minutes
Sundial Bridge/Sacramento River- 14 Minutes
Lake Shasta- 19 Minutes
Whiskeytown Lake- 22 Minutes
Dam Shasta- 26 Minutes
You can also visit our FB page for more pictures and more info. https://www.facebook.com/hiddencharm.redding/
-Thank you,
Shraddha Pathak
Now, do you know which are the most popular Indian food dishes in the local Tri-Valley Indian Restaurants?