Just want to share a way to get some extra % off your many online shopping trips.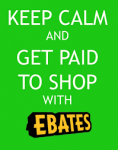 As you shop, you get the following kind of additional discounts – over and above any other coupons!
Just sign up with Ebates
Walmart – 2%
Macy's – 10%
Kohls – 10%
Groupon – 9%
Last Call – 8%
JC Penny – 12%
Best Buy – 1%
Nordstrom – 6%
etc. etc – there are over 500 stores.
Just check it out here. Money is deposited in your Paypal.
Now, do you know which are the most popular Indian food dishes in the local Tri-Valley Indian Restaurants?