Stop by at the Dublin Library on Sat, Jan 28 for a "breathtaking" bollywood music concert by Jhankar Live. Started in 2006 by a group of passionate music enthusiasts, the team excels in presenting soft, melodious songs as well as fast-paced numbers.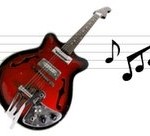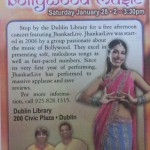 JhankarLive also performs for charitable causes and supports education and artistic talent development of poor children. Members of JhankarLive, fondly called "the jhankaris", are all full-time employees of leading Bay Area organizations. Since its very first year of performing, Jhankar Live has performed to massive applause and rave reviews. For more information about the free afternoon concert, please call (925) 828-1315 or write to [email protected]
An afternoon of Bollywood Music
Saturday, January 28
2 p.m. – 3:30 p.m.
Dublin Library
200 Civic Plaza, Dublin
(925) 828-1315
Update: Jan 28, 2012
The group performed to a packed hall. The songs were chosen in memory of late Deva Anand and Shammi Kapoor. Entertaining!