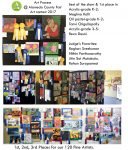 Art Process is Local Dublin Art Studio : www.theArtProcess.net. Artists from Grades Prek-12 learn & create amazing Artwork at studio since 2013.
In recent Alameda county Fair 2017 Art contest & Art show/Exhibit; 120 of Art Process Young Artists received 1st, 2nd place, 3rd place Awards. Studio is proud recipient of 4 Judge's Favorite Awards And 3 Best in the Class (medium of artwork) Awards.
Studio Celebrated it's Young Artists achievement on September 3rd. with Exhibition & meet & greet event – to cheer Alameda county Art contest success + National Art contest where 93 of Studio Fine Artists were selected to be published in a national Art Anthology, With 7 Artists in high Merit list.