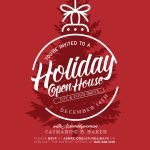 Dear Tri-Valley Desi Indians,
I wanted to let you know that Assemblywoman Baker will be hosting a Holiday Open House Toy and Food Drive on Thursday, December 14th at 6:00pm at our San Ramon District Office, 2440 Camino Ramon, Suite 345. We would love to see you all there! Please feel free to share this invitation. Please RSVP by contacting me at Ira.Phata…@a…com
I have attached a flyer with additional details.
Warm regards,
Ira Phatak
Intern
Catharine B. Baker
Assemblywoman, 16th District
Now, do you know which are the most popular Indian food dishes in the local Tri-Valley Indian Restaurants?