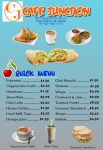 Taste FREE House Roast Coffee!
Stop by for our grand opening of Cafe Junction right across the Junction of 580/680 in Pleasanton. Have a look at the menu.
Mention Code TVD and get 20% Discount at the Cash Register this week and the next.
Do you know which are the most popular Indian food dishes in local Tri-Valley Indian Restaurants?