iBest Learning –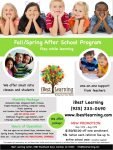 Elementary to Middle School Ages. After School, Summer Camps, Workshops & More.
After School Program in Danville, San Ramon area. Homework Help, Singapore Math, Chinese, English Reading & Writing, Computer Coding, Public Speaking and Common Core Test Preparation. 3880 Blackhawk Rd, STE 300, Danville, CA 94506 (925) 233-0490 email: inf…@i…com. We offer pickup. 5% tuition referral fee. $150/ $100 off new enrollment till Aug 15.
Now, do you know which are the most popular Indian food dishes in the local Tri-Valley Indian Restaurants?