The Tri Valley Indian Association is celebrating Diwali in style by organizing a "Diwali Dhamaka 2010" event on Saturday, November 13th at the Hart Middle School, Pleasanton.
Its to be a night of fun, celebration, dance and good food.
The actual day of Diwali is a week before, on 5th of November. So keep that weekend for worshiping and puja, and culminate the festivities with a dhamaka the next week!
TVIA Diwali 2010
Date: Sat, Nov 13th, 2010
Location: Hart Middle School, Pleasanton, CA.
Time: 6:00pm – 10:00 pm
Cost: Adult – $20
Kids (5yrs – 15yrs) – $10
Kids (3yrs – 5 yrs)- $5
Kids (Under 3 yrs)- Free
Discount of 10% for 10 tickets or more; tickets available at sulekha.com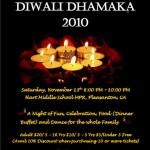 This event is cancelled as of Nov 4, 2010. Here is the email communication from tvia.
On Thu, Nov 4, 2010 at 11:25 AM, TVIA East Bay wrote:
It is with great regret I want to inform you that this year's Diwali event has been cancelled. We couldn't organize the event this time due to lack of participation.
We hope to get more volunteers in the future so that we can continue promoting Indian traditional events in the East Bay Area.
Nevertheless, Happy Diwali 2010 wishes to you and your family !
TVIA committee.