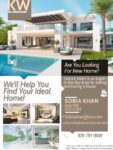 Real estate practice is not about selling or buying a home. It's about representing your client's greatest asset to your clients greatest benefit.
Sobia's Team with Keller Williams Realty in Danville is an expert in the Bay Area for selling and buying a house.
We can send you a free CMA, Market analysis of your house. Also if you are renting we can help you buy your dream house and get a free down assistant program.