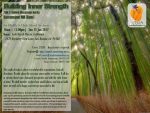 Building Inner Strength-Workshop for Middle and High Schoolers-Jan 15, 2017, 10AM to 12 PM, Gale Ranch Mosaic Clubhouse, 1475, Bayberry view lane, San Ramon, CA 94582
Global Organization for Divinity (GOD USA) is holding a workshop on inner transformation for kids in middle school and high school aged around 10 to 18 years at the . Kindly requesting all middle and high school students to please attend this workshop and not to miss this wonderful opportunity.  Please register your kids today. Registration required. Please click the below mentioned link for registration.
http://tinyurl.com/strong-me-ca
Now, do you know which are the most popular Indian food dishes in the local Tri-Valley Indian Restaurants?