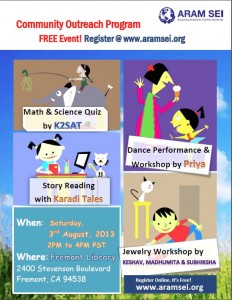 Dear Friends
This summer, Aram Sei (www.aramsei.org) is organizing a community outreach program (COP) at the Fremont Library, Fremont, CA on Saturday, 3 August 2013. This program is for children between 3 to 12 years. We have lined up plenty of entertaining and useful activities for children.
The program includes:
Math & Science Quiz by K2SAT
Story reading by Karadi Tales
Dance Performance & Workshop by Priya Krishnamoorthy
Jewelry Workshop by Subhiksha, Madhumita & Keshav
Exciting prizes to be won – courtesy TndrBOX
You can register online and registration is free! To register, click here https://docs.google.com/forms/d/1Bs8ps6qD78bpGOidXocy89ySO_KhJvuvI9NcSydWXXE/viewform
Please share the poster and bring your friends and family! See you there
Regards and best wishes
Sangeetha Lakshminarayanan
Founder & Volunteer
Aram Sei
ps: I am talking to someone in San Ramon to do a similar workshop for kids in the Tri Valley. Till then, kids  from Trivalley can come to the event in Fremont.