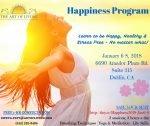 The start of a year is the best time to make a new beginning. Especially if your resolutions include discovering and fulfilling your true potential.
Through The Happiness Program you'll learn practical and powerful  techniques that will enable you to gain a greater vision of who you are and benefit you for the rest of your life. The centerpiece of The Happiness Program is Sudarshan Kriya, or SKY breathing meditation, a powerful breathing technique that uses specific, natural rhythms to not only release stress at the deepest level, but also balance and integrate mind, body and heart.
SKY breathing meditation may not be the only means to wellness in body and awareness in the mind, but it sure is one of the easiest techniques I know.
So effortless, it doesn't require directing or 'watching' the mind, and always effective – even when mind is busy or upset. Ask about research conducted by 70+ published studies showing numerous benefits. Even better, find out for yourself why 370+ million people around the world practice it.
Sign up now – http://tiny.cc/Happiness2018-Jan6-8
Now, do you know which are the most popular Indian food dishes in the local Tri-Valley Indian Restaurants?