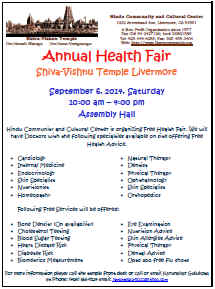 The Hindu Community and Cultural Center of Livermore (Shiva Vishnu Temple) will be conducting a Mega Health Fair. This health fair is open to all. HCCC Human Services believes that service to mankind is service to God. It is with this in mind that we at HCCC reach out to the community, be it health, food or education by touching people lives in our own small way.
Mega Health Fair
When: Saturday September 6th
Fee: Free
Venue- Shiva-Vishnu Temple Assembly Hall
1232 Arrowhead Ave, Livermore CA 94551
What to expect: Free Medical Advice on Internal Medicine, Cardiology, Women's Health, Nutrition & Diet, Dental, Chiropractic Services, Physical Therapy and Alternate Medicine. Various Informational tables from non-profit organizations. Free Evaluation – Blood Pressure, Blood Sugar, and Cholesterol. Free Flu Shots and Free Bone Density Screening
For more information contact Anand Gundu at [email protected] or Karunakar Gulukota [email protected] or call the temple 925-449-6255, 2014 from 10:00 to 4 P.M.