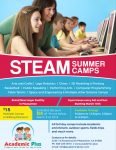 STEAM Summer Camps at Academic Plus ,  now in a brand new larger facility in Pleasanton. Open House every Saturday and Sunday starting March 10.
Early Bird Discount – $25 off if you enroll before March 31.
inf…@a…com 925-236-0572
Now, do you know which are the most popular Indian food dishes in the local Tri-Valley Indian Restaurants?