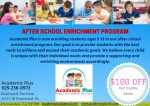 Academic Plus is now enrolling students age 5 – 12 in our after school enrichment program. Our goal is to provide students with the best tools to achieve and exceed their academic goals. We believe every child is unique with their individual needs and provide a supporting and enriching environment accordingly.
$100 off first month's tuition! Contact: academicplu…@g…com
Academic Plus
Rosewood Pavilion
4233-10 Rosewood Drive
Pleasanton, CA 94588
www.academicpluslc.com/
Now, do you know which are the most popular Indian food dishes in the local Tri-Valley Indian Restaurants?