Hi parents,
My name is Praksha and I am a retired teacher from Challenger School in Fremont with over twenty years of teaching experience at all levels. I specialize in Language Arts: reading comprehension, writing composition, and high school/college applications. I will be teaching writing and reading comprehension classes this summer along with Eileen Mammen, founder of  ELA Programs at Talentnook Learning, and a retired teacher from Pleasanton and Dublin school districts.
We have only limited spots in this highly effective and carefully curated 8-weeks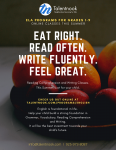 reading/writing program to help your child prep for the next grade level during the summer.
I also mentor students in life skills, such as time management, organization, and study skills needed for success. As an educator, I value building rapport with students, assessing and understanding their needs, and fostering students' self-efficacy.
Our office can be reached at 925-973-8087 or inf…@t…com.