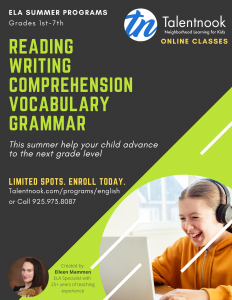 Mastery of English Language Arts is critical for success in life. This summer help your child advance towards that goal.
We will focus on reading comprehension, writing, vocabulary, grammar, and study skills to get your child ready for the next grade level.
Classes will be conducted LIVE ONLINE.
Enroll today. Spots are limited.
https://talentnook.com/programs/english-enrollment
*Early Bird Special: Enroll by 4/30/20 and save additional up to $50*
Here are the class details:
Reading: $376. 8-weeks. 90-mins reading class per week
Writing:  $376. 8-weeks. 90-mins writing class per week
Small class size: 6 students [Grades 1-2: Only 4 students]
Dates: 6/15/20 to 8/6/20. Multiple class timings available to fit your schedule.
Save $100 if you enroll for both reading and writing programs.
10% Sibling discount available.