Lately – "Big Daily Deal" concept has taken hold. Millions of consumers are bombarded with offers every single day, telling them what to buy, when to buy, and if they do not buy it, they are doomed.  Consumers are told,
Today you deserve a day at the spa, even though you may not be interested in one
Tomorrow get a haircut at saloon that you have never been to before and will never go to again
Day after tomorrow, eat at this restaurant, 40 miles away from your home, where you will never visit again
There is more unknown deal coming your way the day after…  Keep waiting until "figure out what you may (or may not) want.
Icing on the cake is look on the poor merchant's face, he was probably convinced to offer that he did not really want to sign up for, but has to honor it. He is trying to read in your eyes and ask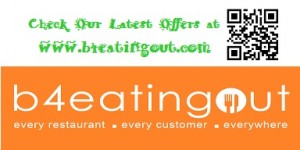 Are you going to buy more than the coupon value?
 How many coupons are you going to use?
Are you someone who is a repeat customer?
Have you ever felt that you are being judged by this merchant? it is not a great feeling.
I thought, there is something fundamentally wrong with direction of the offers market. Is there something that can be done?  How can we help the local businesses manage their campaigns in a cost effective way, so they can offer the most discount to the customers, not the middleman. Business owners make offers that they want to, and they will be happy to honor it. Customer knows that they will always find a local deal at a single place when they want it, not when they are told by the "Big Daily Deal Company" and above all, it should be simple to use, not cluttered with all kind of irrelevant information.
So here it is… my attempt to provide a unique experience to restaurant owners and its patrons through www.b4eatingout.com . A website, which has local deals, up to the minute updated by local restaurant owners/managers. Whether you are stepping out for a quick lunch or planning a family dinner,  always check B4 EATING OUT.
Would you like 15% off your bill at Favorite India or A Free Appetizer at Hyderabad Biryani house in San Ramon or Free Entrée at Luna Loca in Danville.. Check the site. A lot more restaurants are coming up. Deals can be printed, emailed or viewed on any device. ALL DEALS are valid when presented from your mobile device…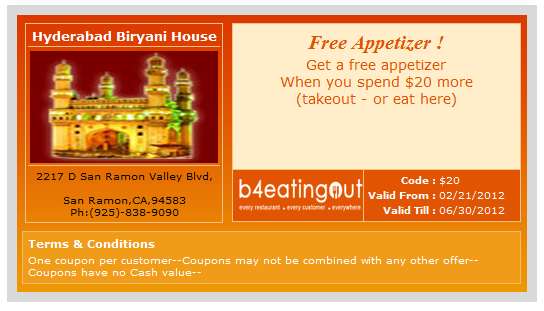 Check www.b4eatingout.com . Your feedback is crucial and appreciated. Leave your comments