Muthamizh Vizha – Celebration Of Tamil Culture – Literature, Music, Dance and Drama, especially related to ancient art forms is being held in Harvest Park Middle School Pleasanton, CA on Saturday, October 8, 2011 at 2:00 PM.

In its continuing tradition, Tamil Manram is proud to present muthamiz vizha with "neeyaa, naanaa" style makkaL vivaatha arangam (மக்கள் விவாத அரங்கம்), skit and other entertainment events with literary value.
The title for makkaL vivaatha arangam is குழந்தைகளை வளர்ப்பதில் முக்கியப் பங்கு வகிப்பது – தாயா? தந்தையா?
If you are interested in participating in makkaL vivaatha arangam, please contact Sridharan Minor, VP Cultural at [email protected].
Muthamiz Vizha
Saturday, October 8, 2011 at 2:00 PM
Harvest Park Middle School – 4900 Valley Ave Pleasanton, CA 94566
Free for Tamil Manram members.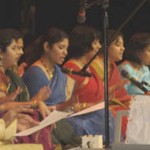 Tamil Manram is committed to the growth of Tamil cultural activities in the bay area. Tamil Manram regularly conducts Children's events and encourages our children to learn Tamil language and Tamil culture.